3D brýle - plastové, Green/Magenta
Producer
American Paper Optics
Your price exc. VAT
3.46 EUR
Quantity discount
| from | to | Price exc. VAT | Flat fee |
| --- | --- | --- | --- |
| 1 pcs. | 2 pcs. | 4.05 EUR | 0.00 EUR |
| 3 pcs. | 4 pcs. | 3.59 EUR | 0.00 EUR |
| 5 pcs. | 19 pcs. | 3.47 EUR | 0.00 EUR |
| 20 pcs. | 49 pcs. | 3.34 EUR | 0.00 EUR |
| 50 pcs. | 999999 pcs. | 3.17 EUR | 0.00 EUR |
Regular selling price inc. VAT
4.90
 EUR
The discount is calculated against the lowest regular selling price for which the product was sold in the last 30 days before the start of the discount event.
Your price inc. VAT
4.18 EUR
Product manager:
Milan Záhorský,  233 320 590,  602 215 334,  zahorsky@nc.cz
Find better price on net?
Send info about this product to friend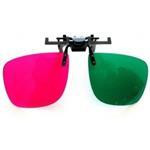 Klip na dioptrické brýle, purpurová/zelená, pro sledování 3D filmů, 3D obrázků, 3D fotek a 3D her, které jsou vytvořeny právě pro tyto Green/Magenta 3D brýle.